Altrincham History Society
---
---
The Society and Its Aims
What do you know about the history of your area?
Want to learn more?
Altrincham History Society exists to further the study of the Altrincham area and to enable such research to be communicated to the public.
Members enjoy a series of talks through the year, with occasional visits, and are encouraged to become active in researching topics related to the history of the area.
The Society publishes the results of research in booklets and a yearly journal. A full index of the Society's publications is available here in 'pdf' format.
Altrincham today is very much a modern town, with recent developments involving many changes but, beneath the streets and behind the buildings, there is a story to be told.
---
Membership
To join, please complete the Membership Form (.pdf)
The Society's Data Protection Policy may be viewed and downloaded here in MS Word format.
---
Meetings
We will be holding meetings again starting in September 2021, but we will need to follow government guidelines and obey restrictions set out by the venue, such as wearing a mask, social distancing and any one-way system. At present our meeting room at Altrincham Town Hall is restricted to 40 people.
We will introduce a booking system. Bookings to be made not longer than 10 days before each meeting. Our Secretary has offered to act as contact for this, by e-mail where possible.
If meetings have to be postponed, the Newsletters will continue, to keep members informed.
Programme for 2021-2022
Altrincham History Society meets monthly from September to May, on the second Tuesday of the month, starting at 7.30pm.
Meetings are held at Altrincham Town Hall, Market Street, Altrincham WA14 1PG (pictured below) in the Old Council Chamber, on the first floor (lift available). A map showing the location is below...
The following meetings are planned, but changes may have to be made depending on Covid restrictions.
14 Sept 2021: Growing up in Altrincham by Bryn Mallion
12 Oct 2021: Buildings of Edgar Wood in Hale by Christine Grime
9 Nov 2021: Altrincham Board of Health Maps 1852 by Roy Griffiths
14 Dec 2021: Christmas Meeting
11 Jan 2022: Cheshire Heraldry: the art & science of heraldry and its importance to local & family history by Tony Bostock
8 Feb 2022: Roman Occupation of Britain by Rev Bryan Corke
8 March 2022: Manchester's Lost District by Keith Warrender
12 April 2022: My life in Dunham Massey Village by Alan Hewitt
10 May 2022: AGM
v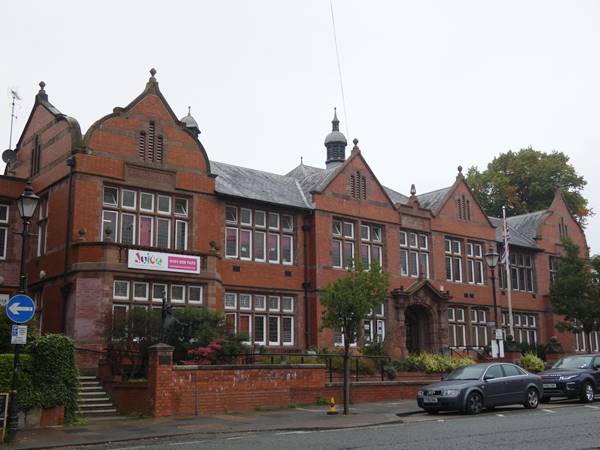 Newsletters (in .pdf format)
---
---
Contact
If you would like more information about the Society or its meetings, please contact:
The Secretary on 0161 973-0829
The Chairman on 0161 980-5464