Altrincham History Society
---
---
The Society and Its Aims
What do you know about the history of your area?
Want to learn more?
Altrincham History Society exists to further the study of the Altrincham area and to enable such research to be communicated to the public.
Members enjoy a series of talks through the year, with occasional visits, and are encouraged to become active in researching topics related to the history of the area.
The Society publishes the results of research in booklets and a yearly journal. A full index of the Society's publications is available here in 'pdf' format.
Altrincham today is very much a modern town, with recent developments involving many changes but, beneath the streets and behind the buildings, there is a story to be told.
---
Membership
Because of the restrictions during the Coronavirus pandemic, we have reduced the subscription to £5 p.a. or £10 to include a spouse or partner. This fee will include a printed copy of the annual Journal.
To join, please complete the Membership Form (.pdf)
The Society's Data Protection Policy may be viewed and downloaded here in MS Word format.
---
Meetings
During the Coronavirus epidemic the Society's meetings during 2020 have been cancelled. We have talks planned for January 2021 onwards (listed below), however these will only take place if restrictions allow.
To keep members informed during this period when we cannot meet, the Society has issued a series of Newsletters, each of which can be accessed from the following list...
Newsletters (in .pdf format)
Altrincham History Society meets monthly from September to May, on the second Tuesday of the month, starting at 7.30pm.
Meetings are held at Altrincham Town Hall, Market Street, Altrincham WA14 1PG (pictured below, right) in the Old Council Chamber, on the first floor (lift available). A map showing the location is below, left...
v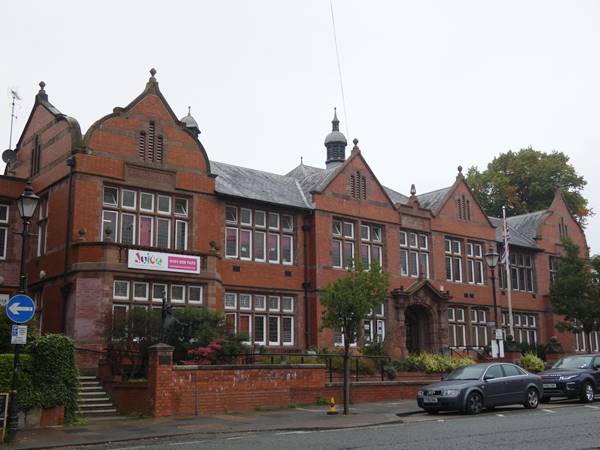 ---
Programme for 2020-21
All meetings are on Tuesday evenings, starting at 7.30pm.
The following meetings are planned, but may not take place. Tuesday 11 May 2021: AGM and members' research
Tuesday 12 January 2021: Cheshire Heraldry, by Tony Bostock.
Tuesday 9 February 2021: My life in Dunham Massey Village, by Alan Hewitt.
Tuesday 9 March 2021: The Buildings of Edgar Wood, by Christine Grime.
Tuesday 13 April 2021: A Town in Crisis: Altrincham Board of Health town plans, by Roy Griffiths
Tuesday 11 May 2021: AGM and members' research.
---
Contact
If you would like more information about the Society or its meetings, please contact:
The Secretary on 0161 973-0829
The Chairman on 0161 980-5464